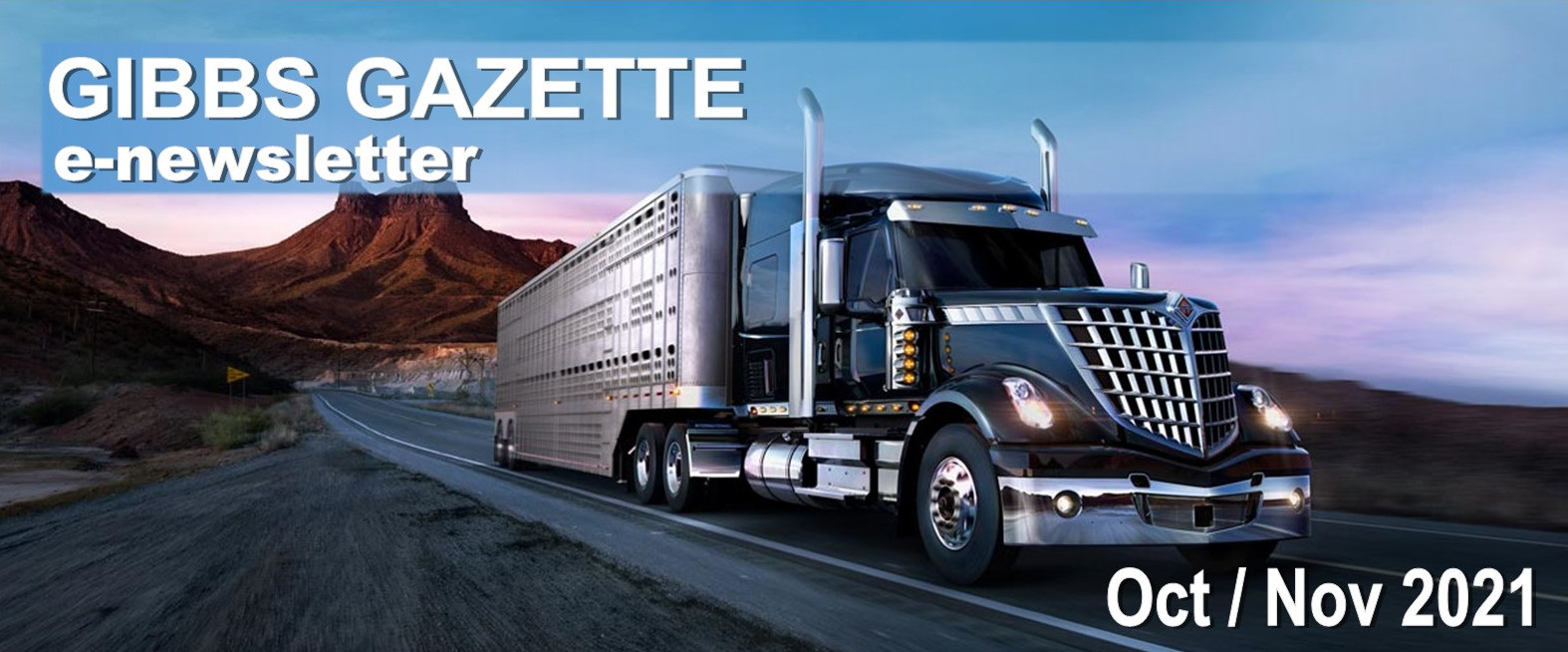 Gibbs Truck Centers - Since 1969
---
Gibbs Truck Centers has been serving Central California since 1969. We have four full service commercial truck dealerships offering the complete line of International and Isuzu brand products and services.
We carry a multi-million dollar parts inventory to meet our customers' needs.
Our service departments are staffed with factory trained, ASE Certified technicians.
Should you require an additional unit we offer rental trucks or full maintenance leasing through our Gibbs Idealease organization.
Our state-of-the-art paint and body shop can handle any make or model repairs.
Looking to purchase a truck or tractor? Contact one of our highly experienced sales professionals today!
Now Celebrating 53 Years!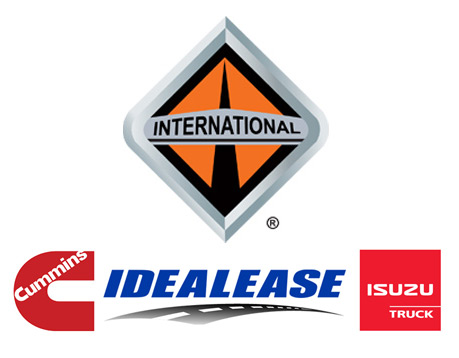 Have you seen our new website?
Re-Designed and streamlined to help keep you up to date on all the latest from Gibbs Truck Centers. Sales, Information, News, and more. Click the link below to visit us anytime.
---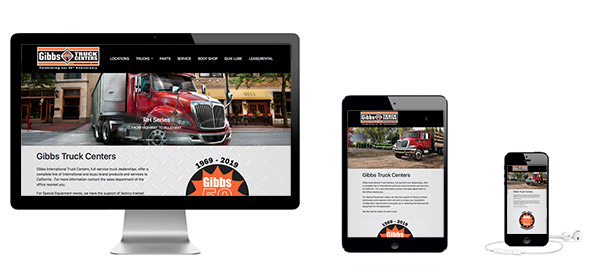 www.gibbstrucks.com

What's Happening At Gibbs Truck Centers?
---
Congratulations on winning the Idealease One Award for the 18th straight year!!
Gibbs Idealease Fresno - Full Service Leasing & Rental - has won the recognized national award of excellence from Idealease for the 18th consecutive year. We are honored to be a part of this elite commercial truck dealer group in North America.
Congratulations to the Fresno Team!!
---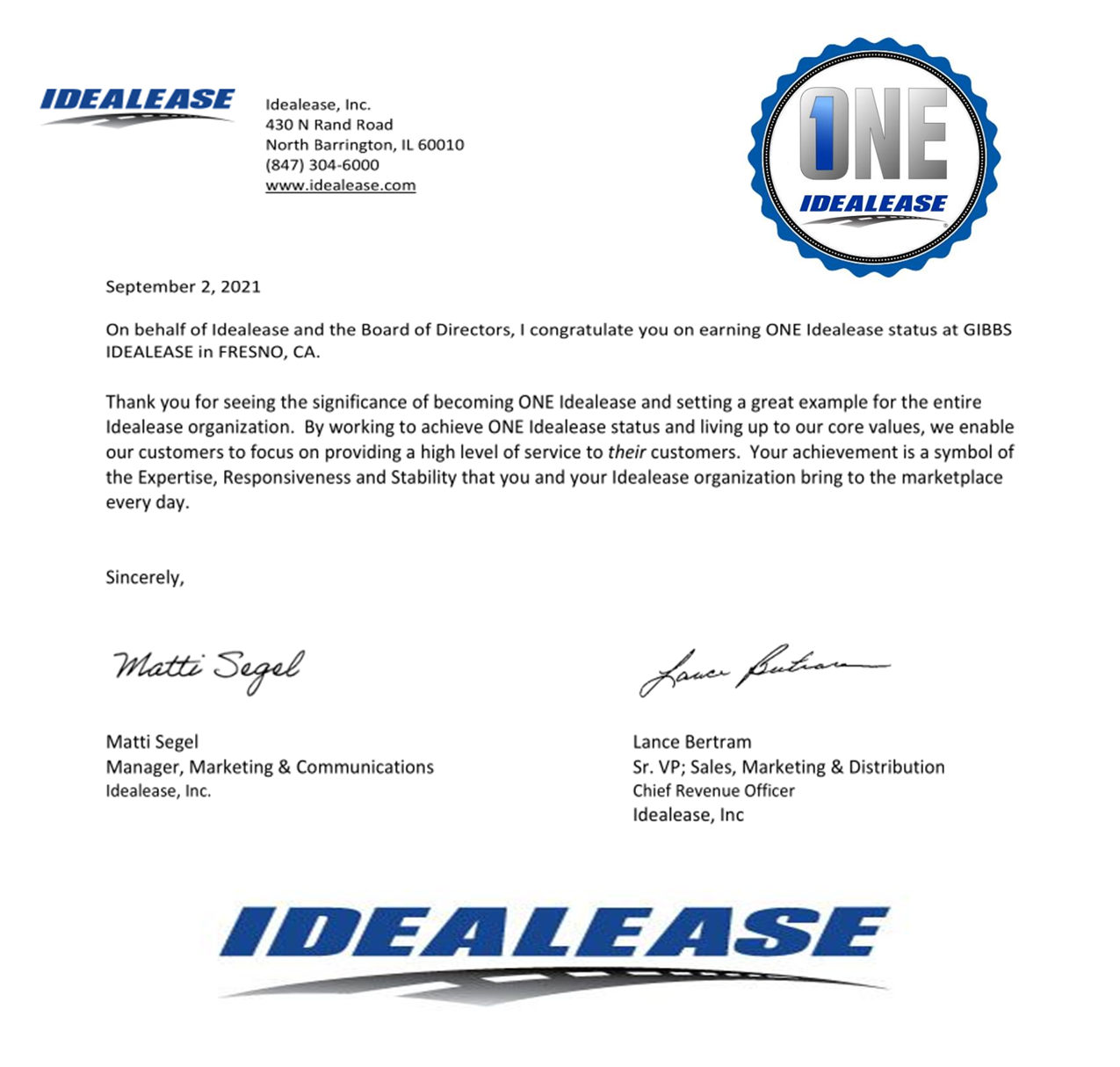 International Trucks Diamond Edge Certification
Congratulations to all four Gibbs Truck Centers locations for receiving Diamond Edge Certification in Q3 of 2021!
---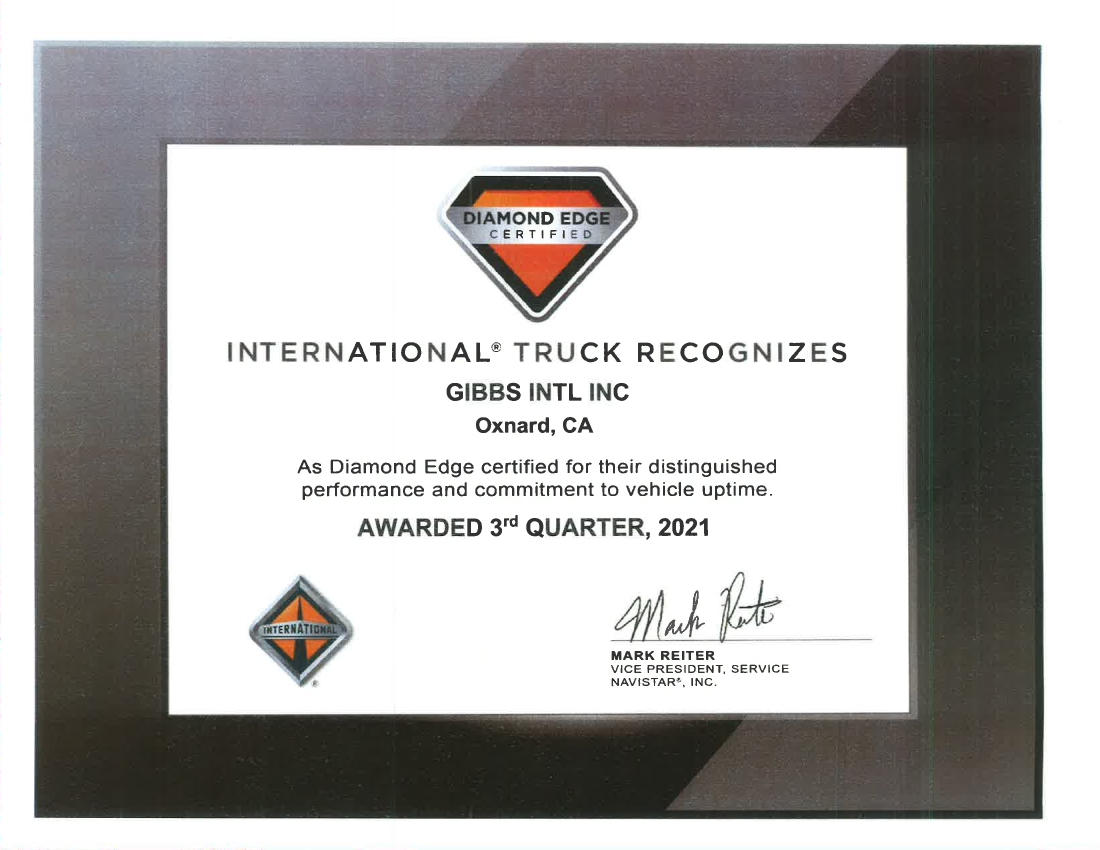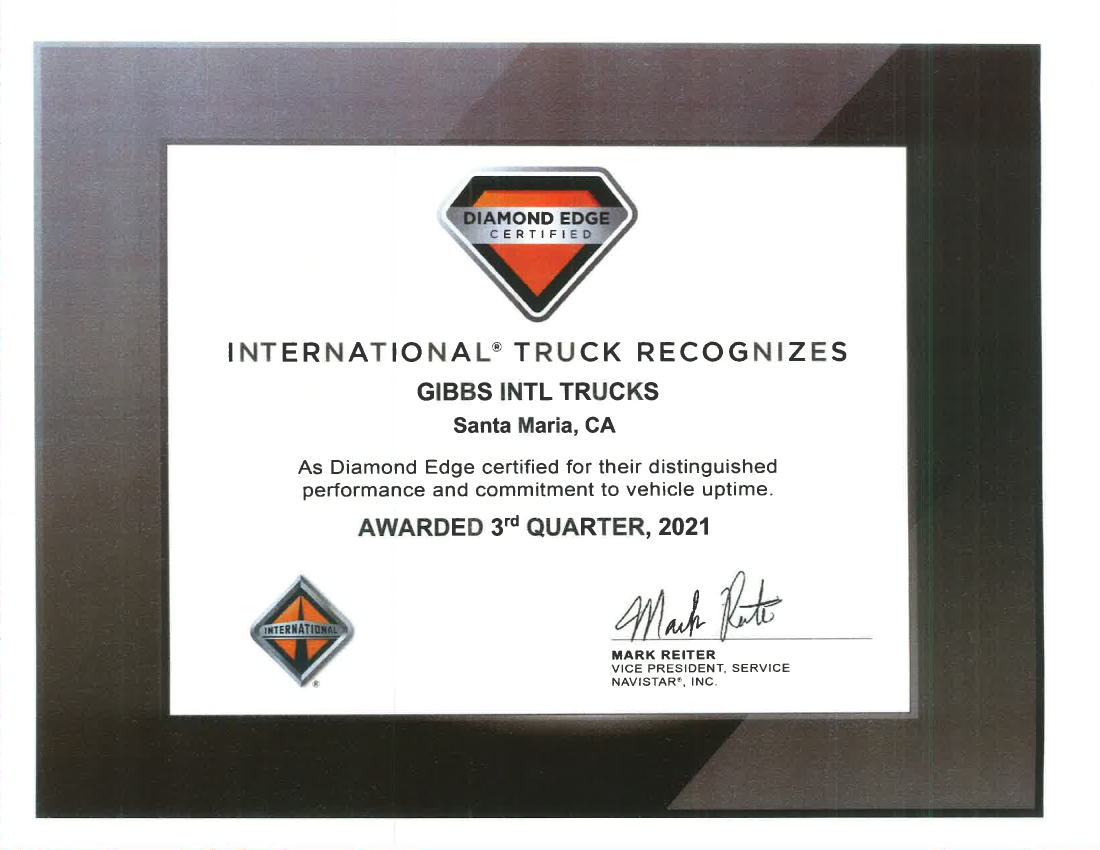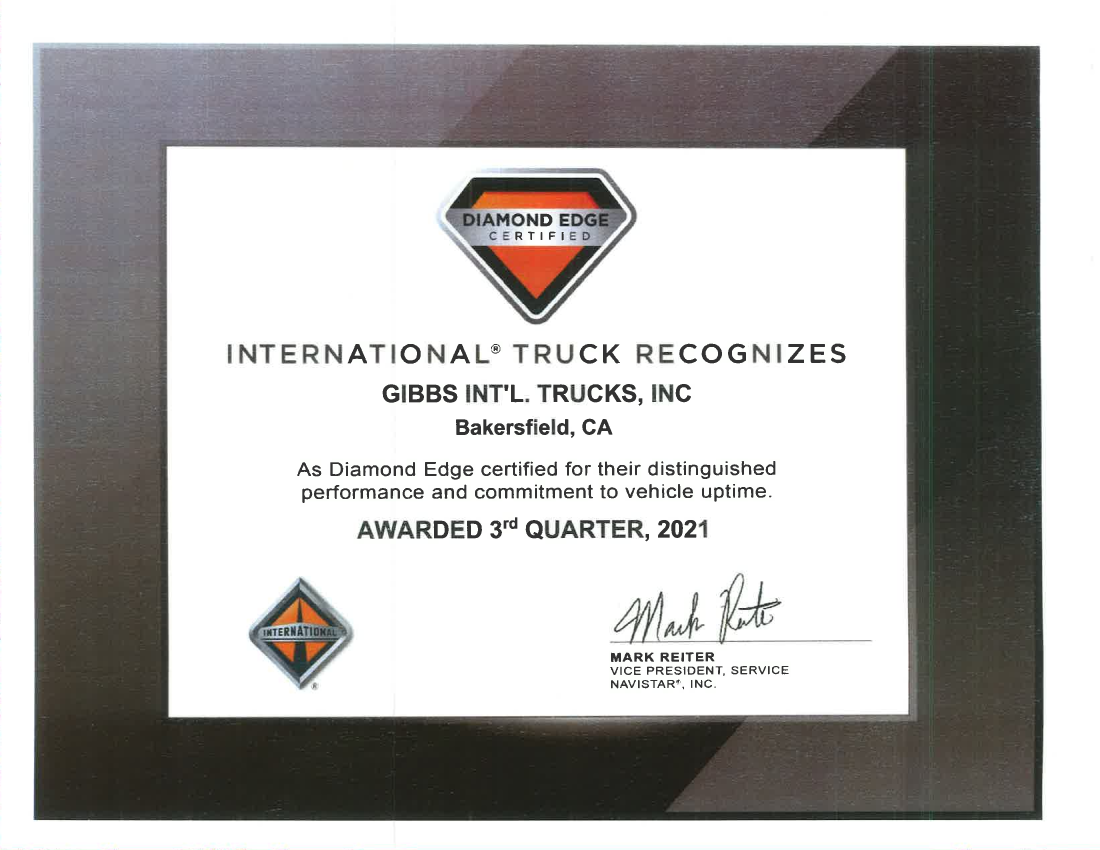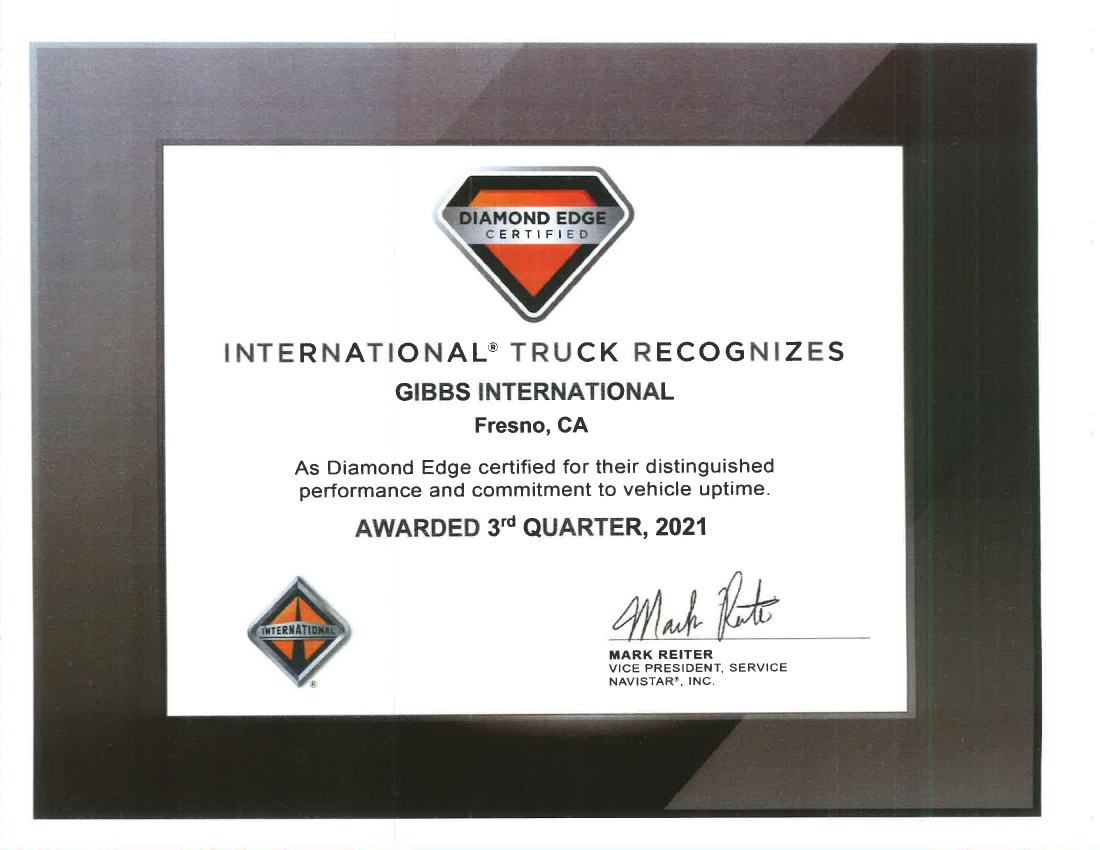 ---
Special congratulations to our Fresno Location for being recognized by Duncan Polytechnical for their continuing support of the school's Heavy Truck Program. Well Done!!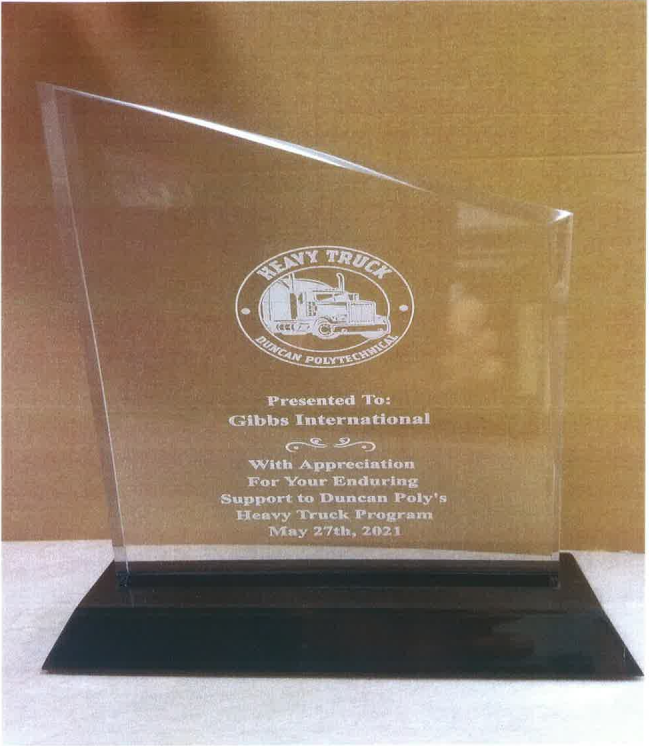 Ed's Corner
---
Curtis and Leroy bought a mule for $100.00. The farmer agreed to deliver the mule the next day. On the morning of delivery, the farmer drove up and said, "Sorry,fellas, I have some bad news. The mule died last night."
Curtis and Leroy replied, "Well then, just give us our money back." The farmer said, "Can't do that. I went and spent it already."
"Okay then, just bring us the dead mule", they said. The farmer then asked, "What in the world ya'll gonna do with a dead mule?"
"We're gonna raffle him off...", Curtis replied.
The farmer said, "You can't raffle off a dead mule!", to which Leroy replied,"Sure we can! We don't hafta tell nobody it's dead." A couple of weeks later, the farmer runs into Curtis and Leroy at the corner store and asks them, "Hey, what'd you fellas do with that dead mule?"
They tell him, "We raffled it off like we said we was gonna do." Leroy then tells the farmer, "We sold 500 tickets for two dollars a piece and made a profit of $898.00." The farmer asked them "Didn't anyone complain?". Curtis replied, "Well, the fella who won got upset, so we gave him his two dollars back."

Now let's get into trucks...
Exciting News from Navistar and the Traton Group.
---
It's Official!
July 1st, 2021
---
---
As of today, Navistar is officially part of the TRATON family as we have formally closed the acquisition. Today builds on five years of a highly collaborative and productive strategic alliance, and this is the next logical step in the TRATON - Navistar relationship.
Together, with your support, we will be the global champion in the transportation and logistics industry with our enhanced scale, strong portfolio of best-in-class brands, and a clear leader in cutting-edge products, technologies and services.
Like all of TRATON's brands, International Truck and IC Bus will maintain a large degree of autonomy within the group's portfolio to ensure it keeps it's unique identity, respected heritage, and extensive expertise. From an operational perspective, it's business as usual. TRATON will utilize our plants, employees, and you, our dealers, to grow. Their commitment, financial resources, and capabilities will strengthen our position and generate new opportunities for business growth and innovation which we will all benefit from.
Together, Let's Go Further!

International Truck's new eMV Electric Trucks are Available Now!
See Below for the latest information and specs on International's new eMV Series Electric Trucks
---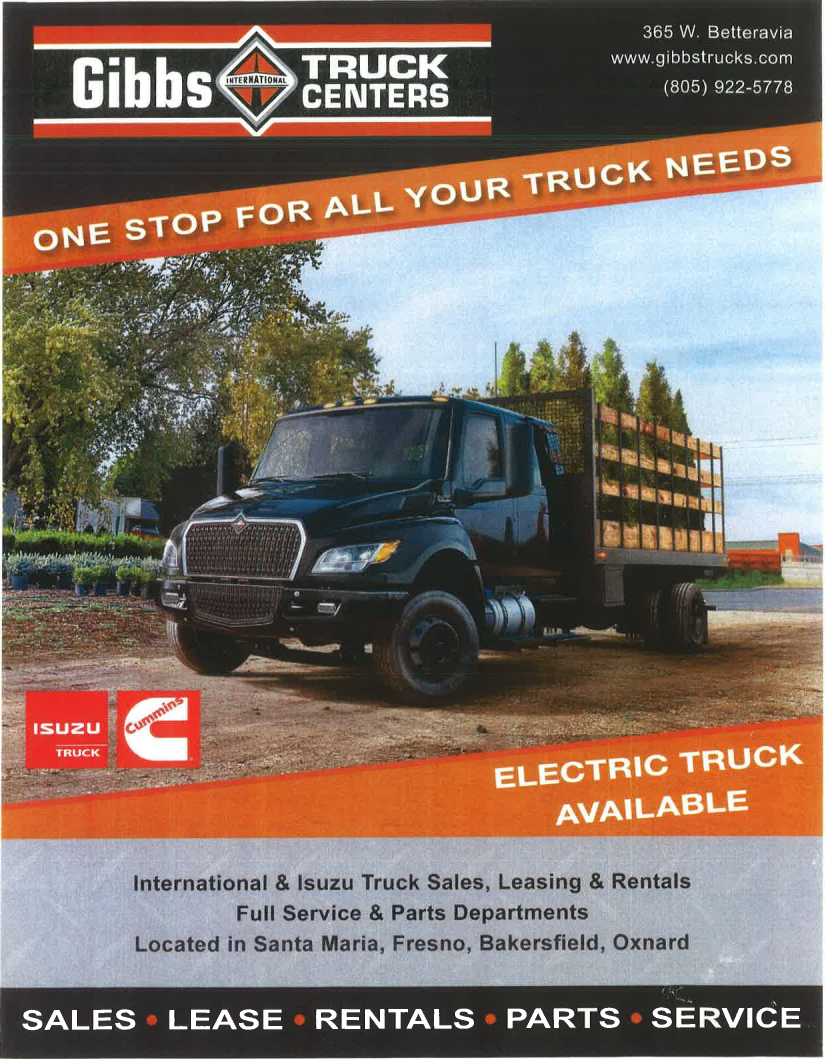 ---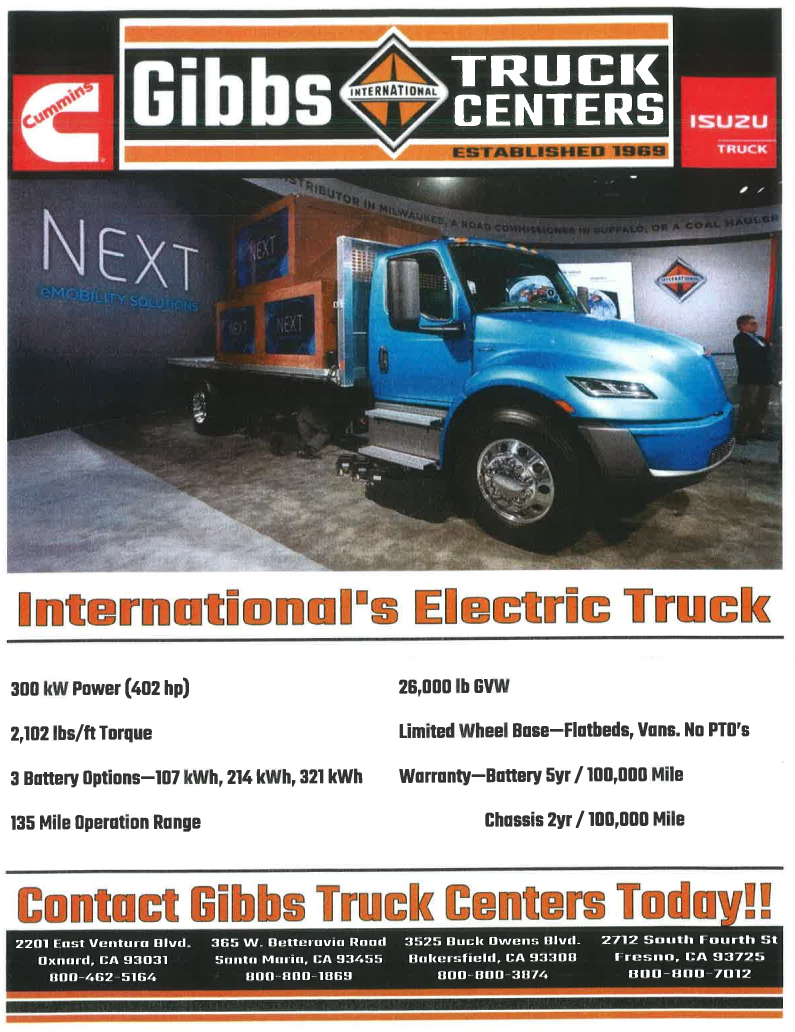 ---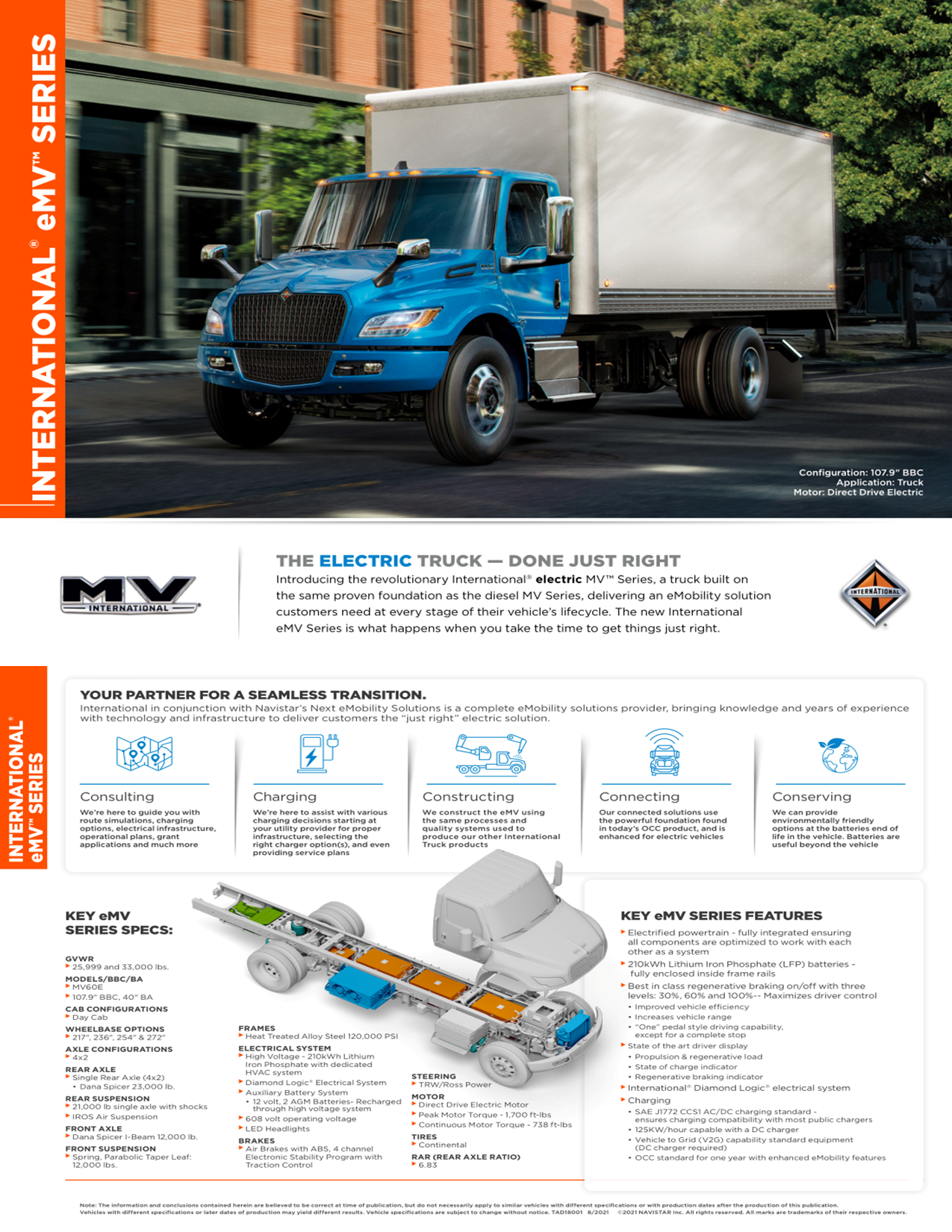 Specials At Gibbs Truck Centers
Looking for a new or used truck? Contact your nearest Gibbs Truck Center and ask about our current specials.
---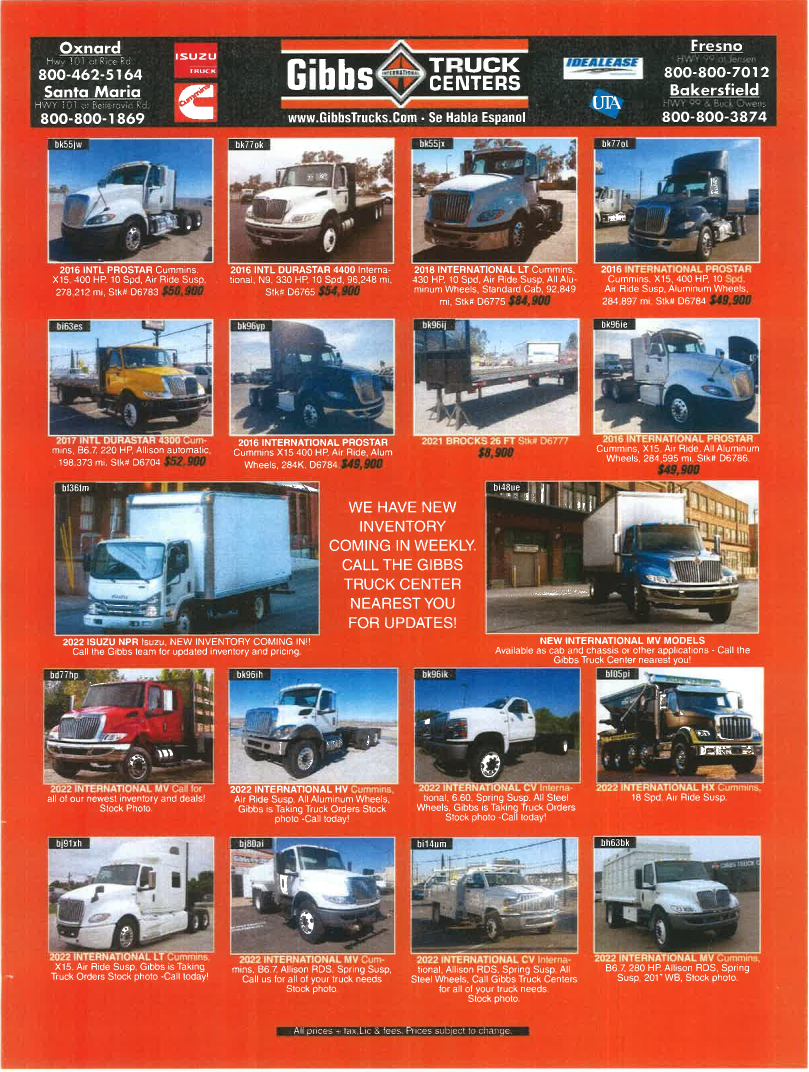 Parts, Parts, Parts...
We all need a part now and then. Take a look at our current specials, or let us know if we can help you locate what you need
---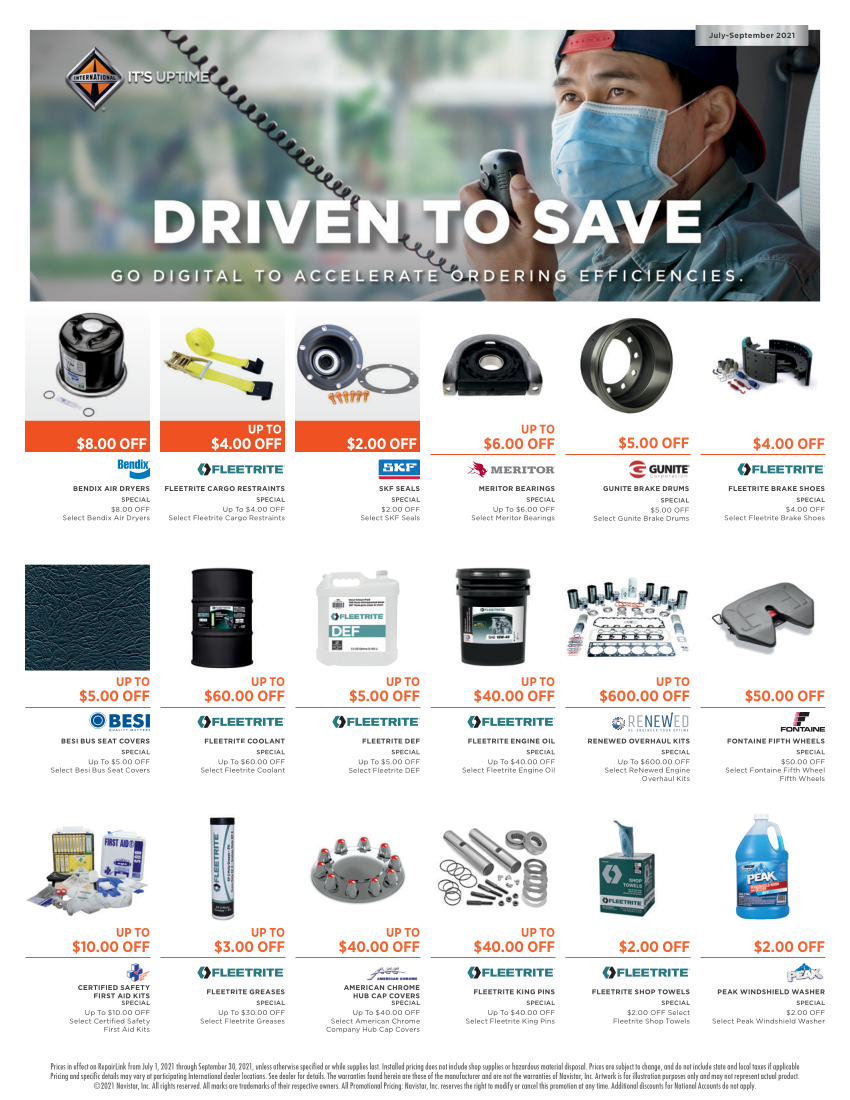 Contact our Lease and Rental Department
Short term, Long term, and everything in between. Contact your nearest Gibbs Truck Center and let us help you get back on the road.
---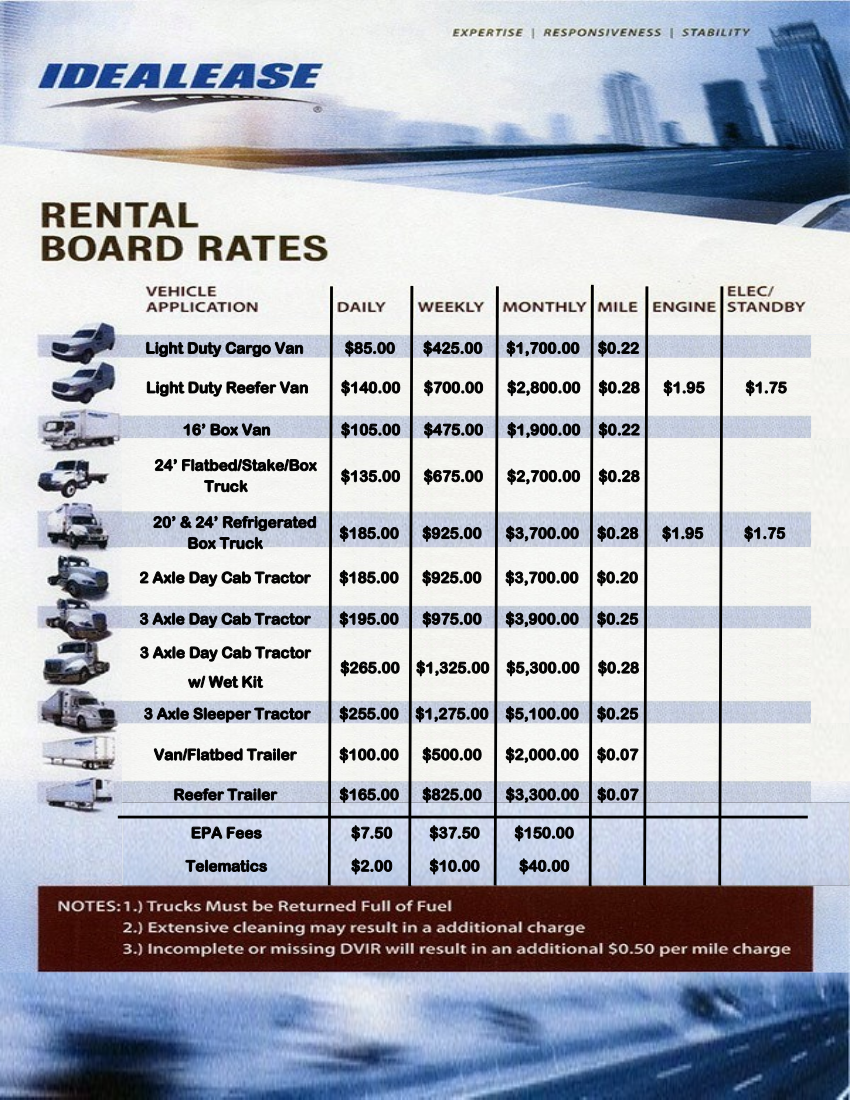 Gibbs Truck Centers Quik-In, Quik-Out Lube Center
Come visit us at 2200 Auto Center Drive
---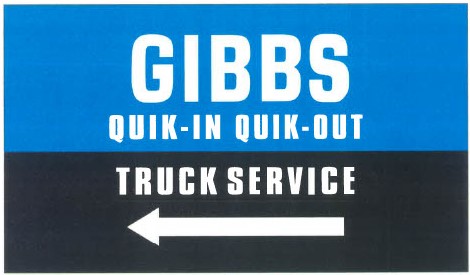 ---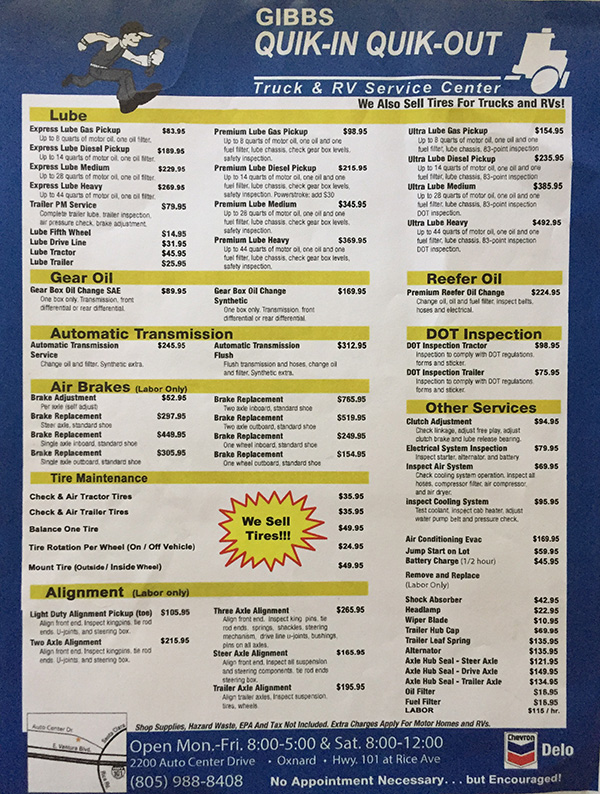 24/7 Roadside Service
Let Gibbs Truck Centers in Oxnard, Santa Maria, Bakersfield, or Fresno help you with your roadside emergency calls. We are available 24/7 - day or night!
---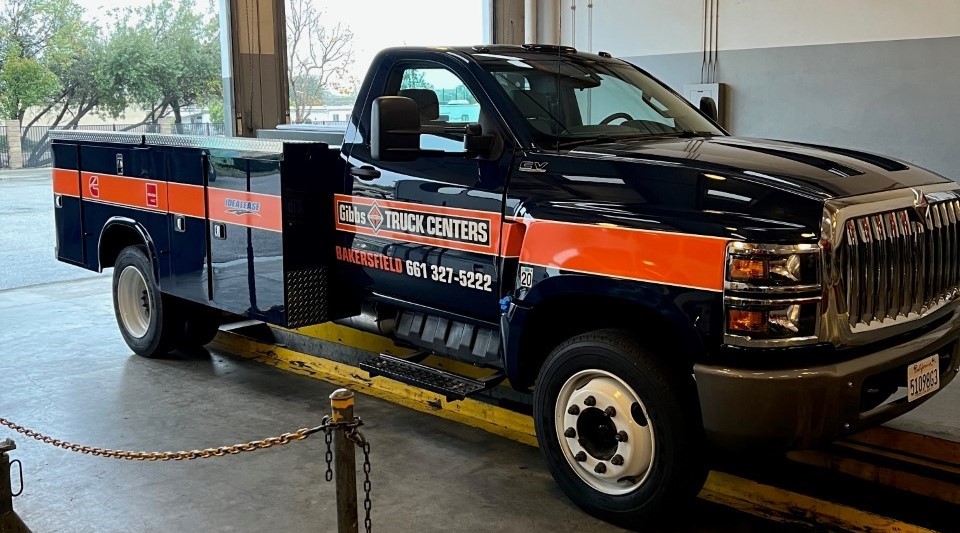 ---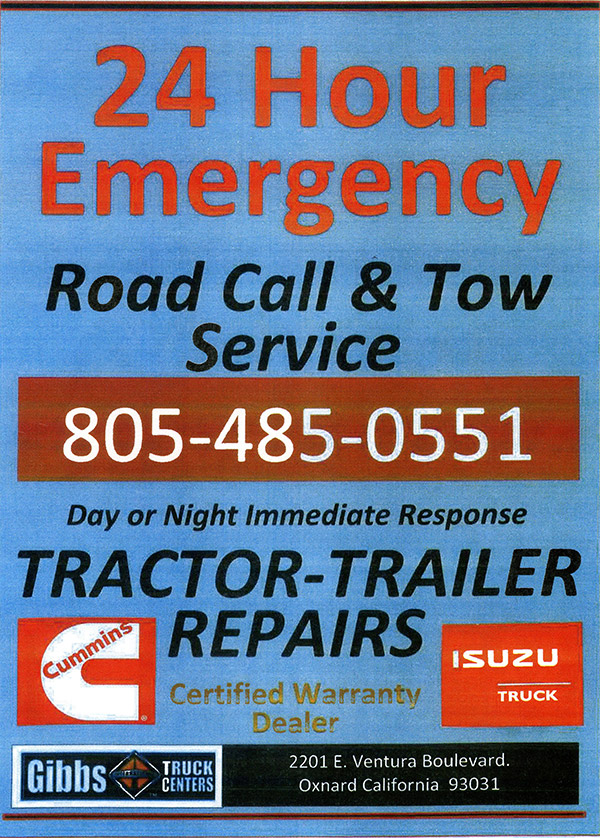 ---
Emergency Service
Schedule your fleets on Saturday for PMs or DOTs. Call Today!


Four Locations To Serve You!
---

You are receiving this quarterly e-newsletter because you registered with us in-store, or at www.gibbstrucks.com Gibbs Truck Centers is required to provide certain information to their customers, which we do through this e-newsletter as well as the printed version of the Gibbs Gazette throughout the year.
---
Our Privacy Policy
Gibbs Truck Centers' relationship with its customers is very important. We respect your privacy and will always protect the information you provide to us. We will never make available our mailing lists, telephone numbers, billing information or email addresses to anyone other than employees of Gibbs Truck Centers, and only for the purpose of processing orders during day-to-day business.